Create a Resumé & Portfolio
I recommend creating your resumé on Canva using a beautiful design. This will help to express your personality and set you apart from the pack. Also, if you have a nice-looking resumé, it shows that you give a shit, and employers want employees who give a shit.
Also, proofread your resumé! I will toss out a candidate as soon as I notice a typo on their application materials. If they aren't detail-oriented enough to fix their resumés, I expect their work to be sloppy, too.
Then save your resumé as a PDF. Why? Because PDFs are universal, which means that your resumé will look exactly the same no matter what type of operating system your prospective employer uses. And FYI: Microsoft Word docs are not universal.
Create Job Alerts
But, instead of searching through the job listings, you're only going to create alerts. For example, if you want a job making TikTok videos in Los Angeles, you'll enter that search criteria on Indeed.com. When you get your search results, you'll also see this:
So, why are we doing this instead of just applying to writing jobs from the search page? In my experience, a lot of people are looking for writing jobs right now. The last time I posted a writing job on Indeed in May, I received over 300 applicants in just THREE DAYS. Unless you see a writing job post that has been posted within the last 24 hours, you're already too late.
Determine the Right Type of Writing
Blogging – Bloggers will write conversational pieces on behalf of their clients, often businesses, to build rapport with an audience and help with overall branding.
Web content writing – Web content refers to the content posted on a company's website, and because the search engines reward fresh content, there is quite a bit of writing work in this niche.
Social media marketing – Social media posts, including LinkedIn posts, Twitter tweets, Instagram captions and Facebook posts, are all writing opportunities worth exploring for today's freelance writer.
Full-time freelancers often do many of these, but you may find that one particular niche works better for you than another, so take some time to explore your options, and add portfolio items that fit.
Ghostwriting – Many freelancers are ghostwriters, which means they write part-time for someone else, who then publishes the work in their own name. Ghostwriters can write everything from basic online content and blogs to full novels and books.
Get a job in writing: The Final Word
Ultimately, learning how to get job in writing is hard work, but it's more than achievable. While writing a book can be a good way to earn income, you can also earn income freelancing as an online content writer.
What are the highest-paying writing jobs?
Public relations and scientific journal writing are among the highest-paid writing jobs. Ghostwriting books is also a high-paying writing job. However, you can build a strong, good-paying career out of online writing gigs, if you know where to look.
Can you build a full-time career out of writing?
Yes, if you have a diverse portfolio and a diverse list of clients, you can build a full-time career out of writing. Take some time to develop your skill, then launch a successful and rewarding career.
Join over 15,000 writers today
Get Serious About Freelance Writing
Share this post with your friends!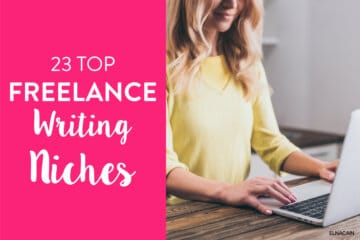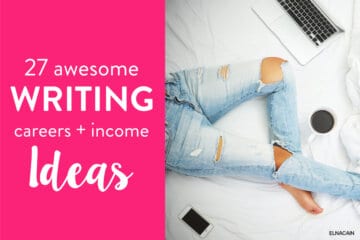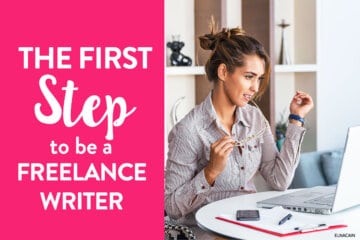 About The Author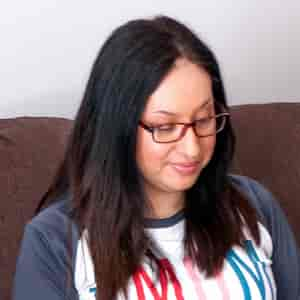 Hi I'm Elna and I'm a freelance writer and mom blogger. I help people just like you become a profitable freelance writer. Within 6 months of starting my freelance writing business from scratch I was able to earn a full-time living as a part-time freelance writer while taking care of my twin toddlers. Check out my free email course Get Paid to Write Online and learn the steps you need to take to be a freelance writer.
Leave a Reply Cancel reply
769 Comments
Wow, Elna! Your article was highly informative with a touch of inspiring! I've wanted to try to get in on freelance writing, but have never really committed to the pursuit. I'm going to try out your ideas, and find myself some extra income while honing my verbal skills to a fine point. If you see this, is there any extra advice you have?Reply to Justus
Hi Justus, Thank you for your compliment! That's great you want to try freelance writing! It's a great side gig or for when you work from home! I hope these tips can help you land your first freelance writing job!Reply to Elna
Hello Elna, Good day. I am so happy to stumble into this post. I am one of your students in Ready Set Traffic and I just learned about freelance writing a month ago as I stumbled into a local mom group in my country. I got excited and thought of giving it a try to earn some money, while slowly growing my blog. I got my first client, but she only wants 2 articles per month, and the payment is low per article (40$), but I accepted thinking that it can help build my portfolio. But after writing, I felt that it was not worth it because it took me a very long time to finish the article because I was reading a lot of resources and included a lot of resources, too. Where can I find jobs that pay a bit higher? I would like to enroll in your writing course, but I can't afford it at the moment. Hopefully, in the future, I can finally enroll.Reply to Julai
Hi Julai! Oh, I hope you enjoyed Ready Set Blog for Traffic over on my Twins Mommy blog! As for your question, in the beginning you might have to do a little work to inch your way to higher paying clients. A lot of it depends on your client and your writing skills. Typically though, starter rates are around $.10-.12/word. My course is called Write Your Way to Your First 800k https://writeto1k.com 🙂Reply to Elna
Hi! Thank you so much for this post! I have a question for you if you don't mind. I am a college student and I have terrible anxiety, so I have been trying to find a way to make a nice income from home. Do you know if any of these sites (referring to number 6 with guest posts) allow complete beginners to submit articles and accept them? Do you know of any sites that let complete beginners guest post, have a good acceptance ratio, and pay well? I would really like to do this and make a good income, if possible. Thank you so much and I look forward to hearing from you! -ConorReply to Conor
Hi Conor, Thanks for taking the time to read my post on 20 ways to find freelance writing jobs. In theory yes if the complete beginner has some social profiles and perhaps a Medium profile. Some guest sites want to know you have written online content before and will ask for some sample work. Medium is a fine platform to link to. They also may ask for you to link your social profiles too. But not all guest posting sites are like this! So do your research and try! The #6 option you are referring to is not a paid option. There are paid options for sure but the free ones are quicker to get your writing up and published and it can help build your portfolio as a brand new freelance writer.Reply to Elna
Elna, Thank you so much for your reply! I've been watching some of your YouTube videos and I found one talking about sites that post jobs. Is it common to find job postings on this site that are friendly to complete beginners? Do you think that is the best way for a brand new freelance writer to start making a good income quickly?Reply to Conor
Hey Conor, thank you Elna for a wonderful post it has been most helpful. I am starting out as a freelance writer hopefully, I was and still am very introverted sometimes. I thought that this made me want to be a writer, so I could survive in seclusion but I am starting to see that it is much more than that! I have no authority speaking on writing especially on how to make money doing it but there is something I would love to share Do not do a job just because of your anxiety, never let fear be the deciding factor for anything in your life! Please try and find a way to deal with this first, there are so many proven methods, have a deeper look at your own religion, study martial arts or even start an improv class Don't let this control youReply to Shawn
Source:
https://www.thefreelancewritersguide.com/blog/how-to-get-a-writing-job
https://becomeawritertoday.com/get-a-job-in-writing/
https://elnacain.com/blog/20-ways-find-freelance-writing-jobs/